Surfwear news
We have a large area of the store devoted to surf wear and surfing novelty items.
We just displayed over 1000 pairs of sandals from Reef , Sanuk , O'neill and Rainbow
mens and ladies latest designs


cruise our special sale racks for board shorts, bikinis and tee shirts at up to 50% off
Arriving daily all of the latest Billabong , O'neill, Rip Curl & Fox, board shorts, bikinis, tee shirts and more
Huge Selection of Lycra rash guard sun protective shirts from $10 and up in mens ladies and kids sizes
Sun and Skin care products from Sun Bum / Blue Lizard and more
Hats from Billabong, O'neill, Dakine, and Peter Grimm in Straw, Supplex, baseball,trucker and flex fit
Go Pro Cameras and accessories in stock

Sunglasses
Costa Del Mar Sunglasses over 100 in stock absolutely best quality and value for on the water or land shades
NEW FOR 2013
SUP and KAYAK free demos most Saturdays 8-10 am all year long always with free instruction included
Bote Boards has knocked it out of the park with the best looking boards on the planet at a super reasonable price all models are available for daily demo or demo rental where the rental fee is applied toward purchase (max 2 day fee applicable)
Wakeboard News
All 2011 Ronix and Liquid Force wakeboards and boots on final blowout mark down pricing, many 2012 packages specially priced to make room for the 2013 models
Windsurf news
Watersports West is very much in the windsurfing business, since starting in 1978 the evolution of the sport has been incredible, that is incredible bang for the buck as windsurf equipment has remained very reasonable and that is why we are getting more sailors in the water each year.
We have an independent instructor Richard who is our local windsurfing instructor he can be reached at 727-581-2698 he teaches by appointment, just 1 lesson will ensure you will be successful day one.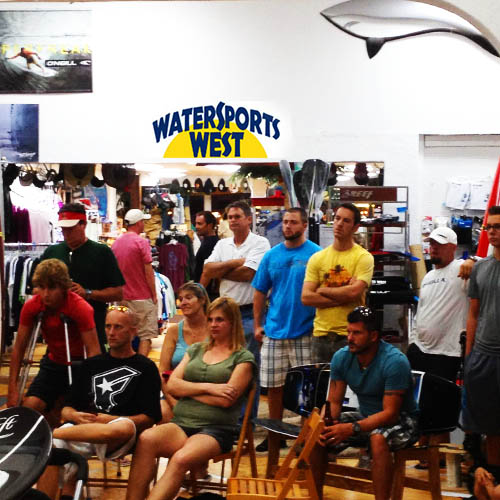 We are full service windsurfing store we do board and sail repair, rigging, parts and accessories, new and used windsurfing boards , sails masts and booms. We repair all windsurfing equipment including epoxy and polyester boards. We stock windsurf universals, tendons, extensions, rebuild kits, specialty metric hardware and always free advise. We service the Tampa bay area and beyond as we ship parts and complete set ups nation wide.
The Wind surf crowd has been tearing up the water in north county at Fred Howard Park, Sunset Beach park in Tarpon Springs, Honeymoon island and Dunedin Causeway.
We finally are starting to see more riders at Belleair Causeway even though it is a small parking spot it's still a good spot tocheck out and learn or cruise.
Down into St Pete good easterly winds have been enjoyed at North Shore park, Lassing Park, the Skyway, Tierra Verde, and Fort Desoto including North Beach and East Beach.