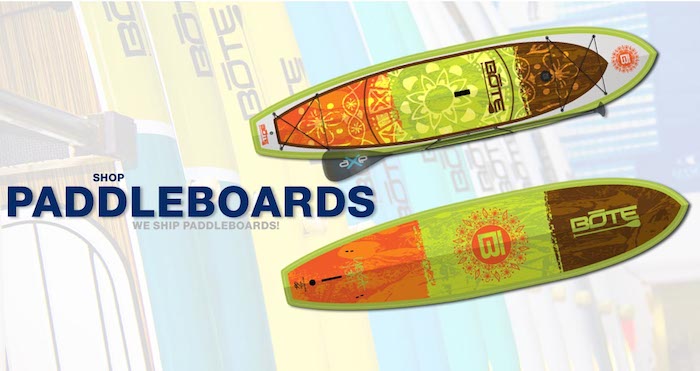 These paddleboards are absolutely gorgeous! Not only do they look good; they perform superbly as well!
New for 2017, Bote Paddleboards changed their displacement nose making it a quieter, more efficient paddleboard. It tracks straighter through the water and handles chop and wind much better! Bote is the most innovative and fun paddleboard brand on the market with add-ons like the exclusive Bote TraveLink System. The TraveLink can be added on to any 2017 or 2016 Bote Paddleboard to make carrying your board to and from the water much easier.
Bote Paddleboards says: Fish. Paddle. Surf. You can do it all on a Bote Board.
BOTE, where design, functionality, art all meet creating not just a paddleboard but something that you'll want to show off to the masses.
For the beginning of 2017, Bote Paddleboards released a teaser showing a new technology they invented for the outershell of their paddleboards. The technology is aimed towards making their boards more durable than virtually any other paddleboard on the market. For more information give us a call or send us a message.
Below is the Bote HD. An awesome board that can do it all including fishing!
Bote says: The 12′ BOTE HD is the next evolution in fishing paddle boards with an industry first 'Hybrid Displacement' hull. This new hull is a hybrid between our surf style hull and our racing hull with "V" nose entry. By combining these two hull designs we have achieved a surf style board which slices through the water with the silence and speed of a race board allowing you to get to the fishing spot faster and more silent than ever before.
The HD model BOTE board has all the features of the classic 12′ BOTE board and can be accessorized with all the same gear.
The Bote Board 12′ SUP.
Form and Function Unite
Designed to be the most versatile watercraft on the market, BOTE is a stand-up paddle board (SUP) that redefines the way people fish, paddle and surf. A SUP is no longer just a blank board, the BOTE SUP can be accessorized like no other. Rod holders, drink holders, paddle clips, coolers and more can all be installed on the BOTE within seconds.
All Decked Out.
Every BOTE Board comes equipped with a high quality deck-pad in your choice of colors. BOTE deck pads provide superior grip and are thick and cushiony to reduce fatigue while paddling. As if that wasn't enough, they also look great!
Make it into a fishing machine with a Tackle Rac and Kula Cooler.
What a huge success, this is the SUV of SUP this board is super stable, tracks very well, it has the best pad on the market, it can be used to surf, tour, cruise or take kids or pets along. The real huge bonus is is when the cooler and leaning post are added it becomes a capable fishing machine. A fly fisherman who had recently bought one of the first ones called us to say that he was standing on the cooler and was able to cast twice his normal distance, and that being almost 10? off the water that the sight fishing was the best he had ever experienced.
Shop Bote Paddleboards Now